On an early Monday morning at the Sydney Australia airport I witnessed a couple, maybe in their 80s, getting their boarding pass at a self-service kiosk, self-tagging their bags and calmly leaving their luggage at a fully automated self-service bag drop unit. The terminal was rather quiet. They were done in minutes. We chatted for a while.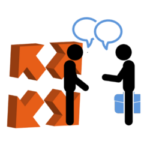 Wait. What?
Calmly using self-service technology throughout the entire airport check-in process? No hassle, no stress. A quiet airport terminal on an early Monday morning? Multiple transactions in a matter of minutes, if not seconds, so no queues? Time for some actual human interaction?
Another Kind of Busy
That Monday morning, airline staff was mingling with passengers, assisting where needed or responding to small talk. The absence of barriers and commanding instructions were noticeable. I asked a staff member if it was an unusual quiet morning. 'It is not', she replied. 'It is actually quite a busy morning.' We chatted for a while.
The Irony of Full Service
People, customers, spend on average three days a year waiting and queuing up. Most of the time it relates to finalizing a transaction with another person, like paying in a supermarket or checking in baggage at an airport. To make a distinction from self-service, ironically, such a transactional process is sometimes referred to as full service.
Interaction vs Transaction
By creating more available self-service points than full-service points ever can at airports, passengers can avoid queuing. It also allows for airline and airport staff to shift from being transactional processors to interactive people. Sounds like the ultimate business case: self-service lets humans be human.